Host An Event
WAG is the ideal place for dog sport events. 
Whether you're hosting an event for agility, obedience, rally, a seminar or other indoor dog sport WAG is the ideal place. We are centrally located  approximately 1 hour SW of Milwaukee and 1 hour NW of Chicago.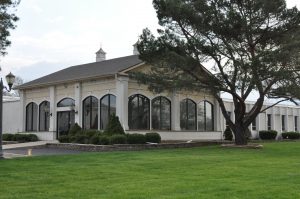 Amenities
approximately 25,000 square foot building.
Approximately 9,000 sq ft (90'x100'′) of gated turf course/trial ring area (Turf Ring)
Approximately 5,700 sq ft (73'x78′) of gated, matted working/crating area (Mat Ring)
Approximately 2,300 sq ft (46'x50′) of gates, matted working/crating area (Obedience Ring)
Approximately 1,300 sq ft (34'x39′) tiled lobby area
Turf Ring construction: GrassTex product PL307 (great traction, no rubber pellets)
Mat Rings construction: Anti-slip matting by Great Mats Dog Agility Mats , 3/4″ EVA foam matting.
Handicap-accessible building and restrooms.
Air-conditioned in summer, heated in winter.
Separate CLEAN multiple-stall men's and women's restrooms.
Soda pop, coffee, & bottled water available for sale.
Outdoor grassy potty areas with clean up materials on two sides of the building
97 parking spots with overflow parking available for large events
​Facility Rental
The entire facility or portions of the facility are available for event or class rentals. Agility and Obedience equipment is included with the rental and can be removed if not needed.
Confirm date availability by contacting building_rental@wagagility.com
Once your date has been confirmed please complete the Building Rental Agreement located HERE
Facility Rental Policies can be found HERE
List of Available Rental Equipment can be found HERE
Available Space
Ring Dimensions
Square Footage
Hourly Rate
Full day Rate (10 Hours)
Additional Hours
Entire Building
90' x 100' Turf
73' x 78' Matted
46' x 50' Obedience

16,887
$100/hr
$1000/day
$100/hr
Turf Ring & Matted Ring
90' x 100' Turf
73' x 78' Matted

14,587
$85/hr
$850/day
$85/hr
Turf Ring Only
90' x 100'
8,820
$45/hr
$450/day
$45/hr
Matted Ring Only
73' x 78'
5,767
$40/hr
$400/day
$40/hr
Obedience Ring Only
46' x 50'
2,300
$35/hr
$350/day
$35/hr
Lobby Only
34' x 39'
1,326
$35/hr
$350/day
$35/hr